We're there for you!
Whether it's a simple business lunch, your parents' diamond wedding anniversary or a birthday with friends – let us help you celebrate the occasion!
CONSULTATION
We know it's not always easy to work out what food you want for the event and how much you will need. That's why we're happy to advise, based on our experience.
NUMBER OF GUESTS
For events for between 15 and 50 people, we can treat your guests to delicious tibits goodies from the buffet, freshly squeezed vitamin juices and a choice of tasty desserts. We are happy to consider larger events on request. Our appetiser platters are ideal for smaller occasions.
TIMING
Please place your order at least three days before your event. Enquiries will be treated as binding orders once we have confirmed them in writing. Please note that availability on specific days will depend on our bookings. We recommend that you book your event at the earliest possible opportunity.
PRICES
Our minimum order value for events is CHF 300, excluding delivery costs.
DELIVERY AREA
We cater for events in the Greater Zurich, Lucerne, Winterthur, St Gallen, Bern and Basel areas.
FURTHER INFO
If you have any questions, please check our FAQs page, email us at catering@tibits.ch or call us on +41(0)44 250 69 56

ENQUIRY
Our enquiry form can be found here.
T&Cs
Read our terms & conditions here.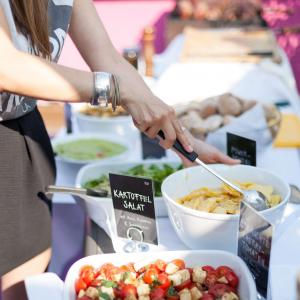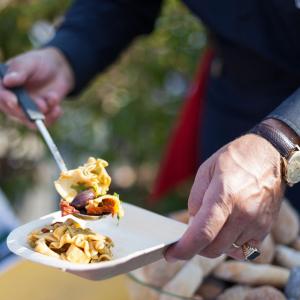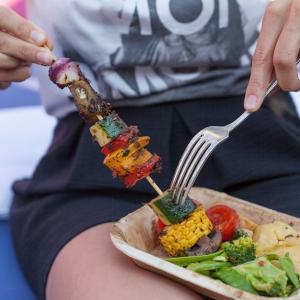 BUFFET
Ordering from us is very easy – the only difficult part is deciding which of our tasty options to choose. Our seasonally adapted catering menu includes hot meals, salads, sandwiches and desserts – in short, everything your gourmet vegetarian heart desires.
I CAN'T MAKE MY MIND UP
We are happy to help you with your choices, turning your ideas and requirements into a customised gourmet buffet.
HOW MUCH DO I NEED?
For appetisers we recommend around 300 g per person, for a light meal around 450 g and for a full meal around 600 g.
PRICES
As in the restaurant, we calculate the prices by weight. The prices for salads, warm dishes and desserts are CHF 4.20 per 100 g (unless marked otherwise). Sandwiches and the patisserie range are billed per item.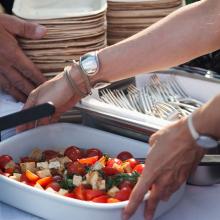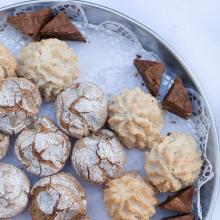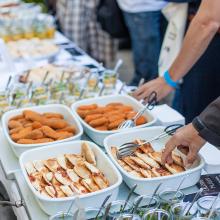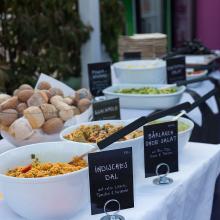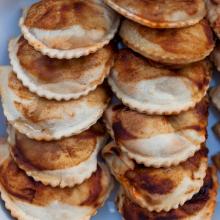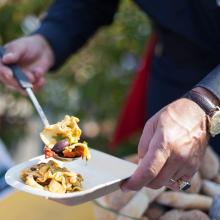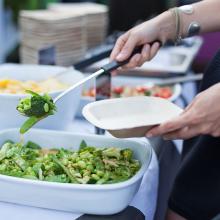 DRINKS
That's the food sorted – but you're going to be thirsty, too! We are happy to provide the perfect drinks for your event. How about some freshly squeezed juice, a homemade iced tea or a nice glass of wine? We prepare our vitamin juices from the best-quality fruit, berries and vegetables throughout the day. Our iced teas, made to our own recipe, not only quench your thirst but taste deliciously refreshing. And our select wines are produced by small, sustainably-run Swiss and European vineyards.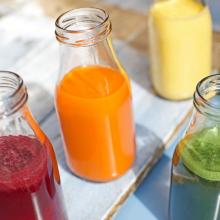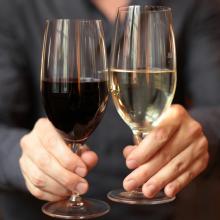 SERVICES
As well as providing the culinary highlights for your event, we're happy to help you with the logistics.
Equipment
All orders are delivered in our tibits dishes, and serving cutlery is included. We provide electric hotplates for the warm dishes to ensure that your buffet delights don't get cold.
Courier
Our trusted courier will bring the order to you and return the equipment to us.
Equipment for hire
From forks to wine glasses – we are happy to provide tableware and table linen, too, if required.